Acknowledgements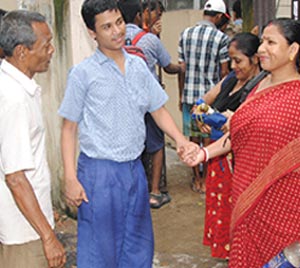 Our thanks to our well wishers, for their financial support and goodwill throughout these 34 years. Without this generosity, REACH could not have touched the lives of more than 10 lakhs of children with disabilities, their parents and society at large. We are proud of achieving our goals and are committed to move professionally with sincerity and empathy in the years to come.
THANK YOU ALL
Government of India, Ministry of Social Justice and Empowerment
Government of West Bengal, Deptartment of Social Welfare
Russi Mody, Former Chairman, Tata Steel
R.K. Krishnakumar, Chairman, Tata Global Beverages Ltd. for his wholehearted support to REACH and to Swasraya, its branch in Kerala, since its inception.
Dr Mithu Alur, Chairperson, Spastics Society of India, Mumbai and Satyam Alur for their guidance and professional inputs in our starting up, development and growth.
Donors from NORWAY, SWEDEN, U.K., DENMARK, SWITZERLAND and HOLLAND
Corporate CSR donors from India
Individuals, clubs and organizations