Curriculum and Activities
We are proud of our Special Child Development Centre and its school population.
Our curriculum is appropriately designed, on the basis of the age, disability and other needs of the student, pre-decided on the basis of an ability assessment.
The spacious environment in a five storied building allows students to freely participate in appropriate learning programs in separate units.
Pupils with autism follow the TEACCH (Treatment and Education of Autistic and Communication Handicapped Children) method. Each work in their own work station and follow individual programs. Teachers provide the support required.
Individual support is provided to all pupils – slow learners, those with cerebral palsy, deafness, autism and mental and intellectual challenges. Children with cerebral palsy attend physiotherapy sessions.
Our students come together for different co-curricular activities like pottery, sports, drama, music, dance, arts and crafts etc. They enjoy the programs, achieving to unravel their potential.
Our deaf students and slow learners progress in a subject-based curriculum. Some have successfully taken the Public School Leaving Examination.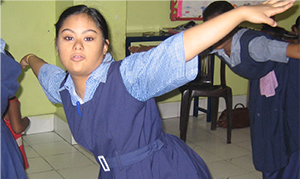 Dance & Drama are the part of curriculum for slow learners at the junior level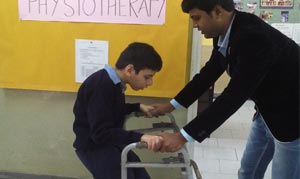 Physiotherapy sessions being conducted for the students affected by cerebral Palsy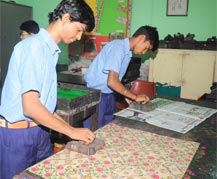 Deaf Students are encouraged to participate in clay modeling,pottery,block printing etc.